Why DisclosureNet™?
What DisclosureNet™ Can Do:
Quick Peek At DisclosureNet™
Smarter Disclosure – Faster. DisclosureNet™ is the new generation software for internal and external reporting. It combines leading disclosure research and enterprise disclosure management technologies with advanced collaboration features to meet the office of finance's reporting needs. Watch this short video to get a quick overview of DisclosureNet™ and then schedule a demo.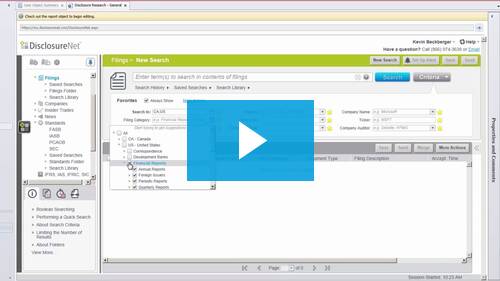 The Insight Forum:
Featured Blog Posts
The SEC's Big Plans for
XBRL Compliance
There is a rumble coming from within the SEC and it's causing quite a stir in the financial reporting community. Read more…
Growing Up
With Guidance
Making our parents, er… the IASB, FASB and the SEC… proud means following these best practices for following changing standards, rules and regulations. Read more…
Full Disclosure: What Would
Goldilocks Do?
Dr. Patricia Walters weighs in on the complexities of full disclosure and gives advice on the best ways to improve and streamline your existing disclosures. Read more…