Why DisclosureNet™?
What DisclosureNet™ Can Do:
Quick Peek At DisclosureNet™
Smarter Disclosure – Faster. DisclosureNet™ is the new generation software for internal and external reporting. It combines leading disclosure research and enterprise disclosure management technologies with advanced collaboration features to meet the office of finance's reporting needs. Watch this short video to get a quick overview of DisclosureNet™ and then schedule a demo.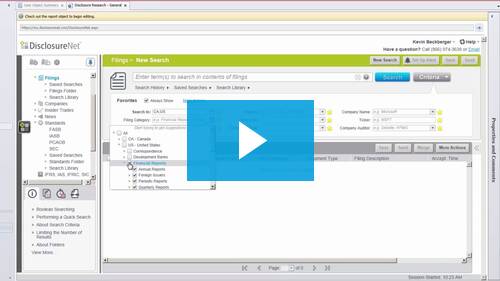 The Insight Forum:
Latest Blog Posts
6 March 2014
5 Things CFOs Will Do When Annual Reports Are Submitted
Annual reporting season too shall pass. Read more…
4 March 2014
Rereading the Annual Report – Competitive Indicators You May Be Missing
Annual reports are so much more than the financials. This post explores annual reports and information that might give you a leg up on your competition. Read more…
25 February 2014
Thinking of Committing Fraud? Think Again!
The financial reporting and audit task force talks 2014 Read more…